Ex Nihilo perfumes and colognes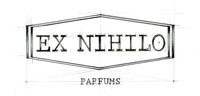 Country:
France
Main activity:
Fragrances
Brand website:
link
Niche designer
"EX NIHILO is a Parisian perfume house. An alternative to stereotyped luxury products, an alternative to the mass personalization. Inspired by both the creative avant-garde and the French spirit of pure refinement, we aim to share our own conception of luxury, in bringing to the fore the pinnacle of know-how and the most splendid raw materials in perfumery.
EX NIHILO draws its' inspiration from the iconoclast and free thinkers: from emerging talents in perfumery and architecture, to passionate designers and hardcore glass-blowers. In opening new collaborative paths between perfume creators, the latest technology and the artistic community, we will try to respond to the demands and desires of a passionate generation searching for the most inspiring discoveries and sensations." - a note from the brand.
Designer
Ex Nihilo
has
33
perfumes in our fragrance base. Ex Nihilo is a new fragrance brand. The earliest edition was created in 2014 and the newest is from 2020. Ex Nihilo fragrances were made in collaboration with perfumers Givaudan, Jórdi Fernandez, Jacques Huclier, Quentin Bisch, Jordi Fernández, Yann Vasnier, Olivier Pescheux, Shyamala Maisondieu, Nadege Le Garlantezec, Nathalie Gracia-Cetto and Louise Turner.