John Galliano perfumes and colognes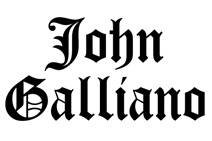 John Charles Galliano was born in Gibraltar in 1960 to strict Roman-Catholic parents. His father, a Spanish plumber, his mother and his two sisters moved to England in 1966. The family were based in the Southeast of London.
Galliano attended Wilson's Grammar School in London before he went on to study fashion design at Central Saint Martins College of Art and Design. he graduated with first class honors and his first collection, Les Incroyables, which was inspired by the French Revolution, was an instant hit and was bought by the London fashion boutique Browns.
Galliano soon set up his own brand. While funding came from different investors, Galliano enjoyed the life in London until, in 1988, he was advised to move his base to Paris in France. The first collection that he presented in the French capital in 1989 was part of Paris Fashion Week. Still, Galliano could not avoid bankruptcy and eventually moved to Paris in 1990.
With the help of Anna Wintour and a few investors Galliano was soon back in the haute couture world. In 1995 he joined Givenchy, part of the LVMH group, as a designer and presented his critically acclaimed first collection for Givenchy in the following year. Only 15 months after joining LVMH he was moved to Dior, the company is he mostly associated with. He has been with Dior for 15 years until 2011 when he faced criminal charges and, eventually, was found guilty of giving public insults on account of race.
From the mid 1990s until early 2011 he was designing several collections, some of them haute couture and some of the ready-to-wear, for the house of Dior and his own successful label. Galliano ventured into the world of perfumes in 2008 with his first fragrant offering "John Galliano by John Galliano". This EDP is often referred to as mystical or "Goth" and centers around prominent accords of incense, violet, iris, aldehydes, angelica, patchouli and rose. An EDT version of this fragrance was launched in 2010 shortly before the presentation of Parlez-Moi d'Amour. Parlez-Moi d'Amour EDT is a feminine fragrance that is based on blueberry and rose. In 2011 an EDP version was launched.
Designer John Galliano has 10 perfumes in our fragrance base. John Galliano is a new fragrance brand. The earliest edition was created in 2008 and the newest is from 2015. John Galliano fragrances were made in collaboration with perfumers Sophie Labbe, Christine Nagel, Aurelien Guichard and Alienor Massenet.